Spark Haus by Cisco is where coders, developers, and business minds connect, share & collaborate.
We're bringing Spark Haus to one of Dublin's most unique and creative venues for a two-day popup experience featuring a hackathon! Learn some new things, hear some inspiring tech talks, win some prizes in a fun and dynamic atmosphere. This will be two days of intense hacking, coding and competition using Cisco's Spark platform.
Register here
Have fun and win prizes while learning and building on Cisco's communications APIs. This isn't the Cisco you think you know – no networking gear here – these are APIs designed to help you collaborate and communciate with customers, partners, and colleagues. The APIs are created by experts in developer experience, designed for developers like you.
While you're at it, you'll have the chance to hear from some of the best tech minds from Ireland and abroad. Hear inspiring stories, learn at technical tutorials, and find out what Cisco has coming next.
We'll have food and drink, some surprise judges, and plenty of swag and prizes.
Ready to get started? Register here to reserve your spot.
What's possible with Cisco Spark?
In Spark, conversations take place in virtual meeting rooms. Some rooms live for a few hours while others become permanent fixtures of your team's workflow with titles like Daily Standup or Build Status. Spark allows conversations to flow seamlessly between messages, video calls and real-time whiteboarding sessions. No other solution brings together so many facets of collaboration into a single unified platform. Learn more and download Cisco Spark for free at www.ciscospark.com.
What can you do with the Cisco Spark APIs?
The initial release is focused primarily on room management and getting content in and out of Spark. With this initial set of APIs you can already:
Create a room and invite people
Post messages into a room
Get room history or be notified in real-time when new messages are posted by others.
Search for people in your company
Soon, we'll be adding APIs for creating automated bots, controlling video calls, and managing your entire Spark experience.
Learn all about our developer platform at Cisco Spark for Developers or watch the video below from our CTO for APIs & Integrations: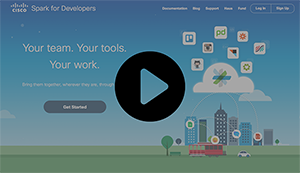 What is Tropo?
Tropo makes it simple to automate communications, connecting your code to the phone network with both voice and messaging. You use the web technologies you already know and Tropo's powerful cloud API to bring real-time communications to your apps.
If you can create a web site, you can create an application that makes and receive phone calls, uses voice recognition or interact over text messages. Your code can even create multi-party conference lines and transcribe entire calls to text. There's no need to learn new languages, wrestle with VoIP software, or learn about telephony. Host your code with Tropo, or use your existing web server in the language of your choice. Tropo adds a few simple communications commands to your favorite programming languages.
WHEN

Wednesday, June 1, 2016 at 9:00 AM

–

Thursday, June 2, 2016 at 7:00 PM (IST)

WHERE

Dogpatch Labs – The CHQ Building Custom House Quay, Dublin 1, Ireland – View Map